Need for Speed: Most Wanted is a 2012 open-world racing video game, developed by British games developer Criterion Games and published by Electronic Arts. Announced on 4 June 2012, during EA's E3 press conference, Most Wanted is the nineteenth title in the long-running Need for Speed series and was released worldwide for Microsoft Windows, PlayStation 3, Xbox 360, PlayStation Vita, iOS and Android, beginning in North America on 30 October 2012, with a Wii U version following on 14 March 2013. The game picked up on the Most Wanted IP, as opposed to the Hot Pursuit reboot that Criterion developed previously.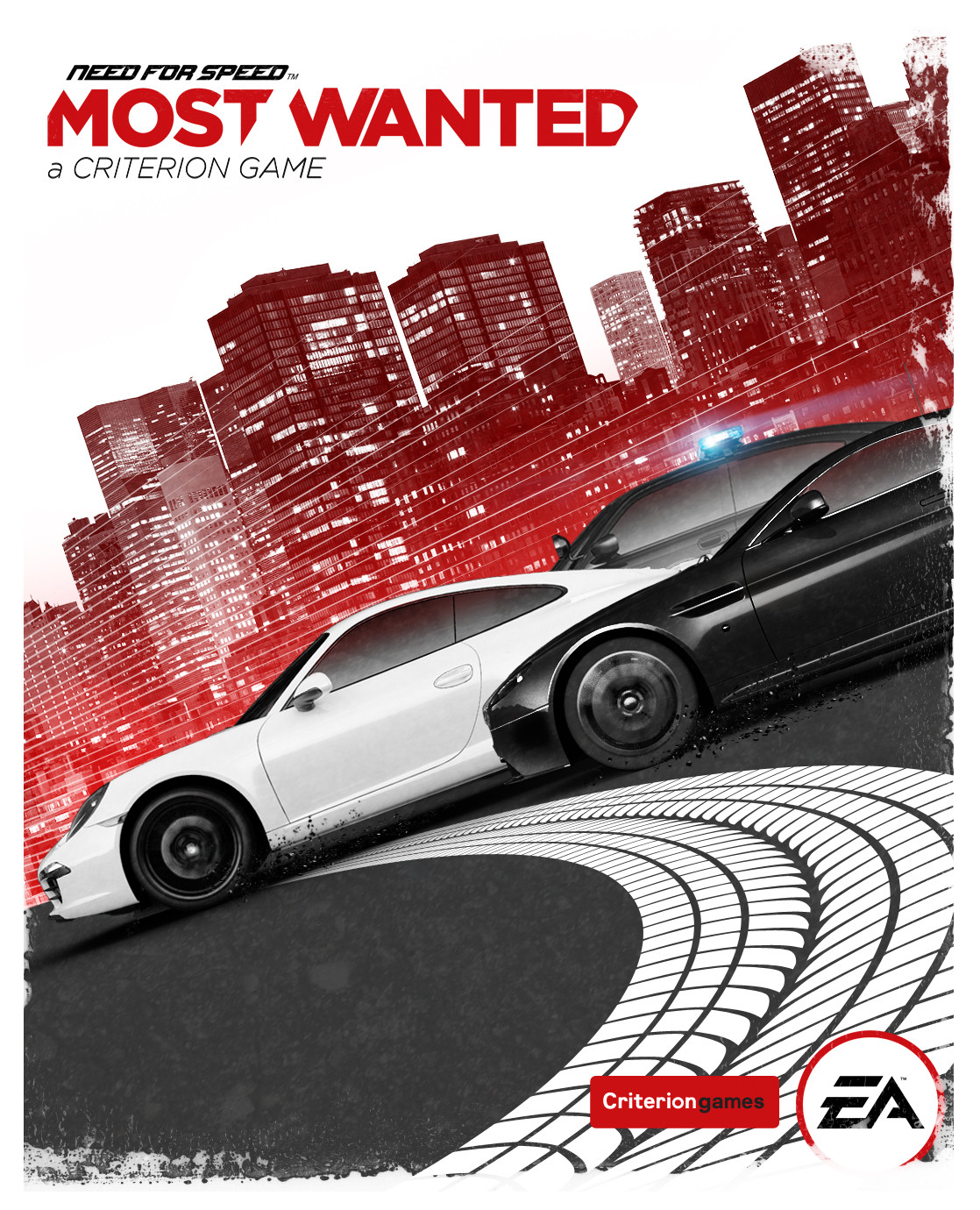 Gameplay
---
Microsoft Windows, PlayStation 3, Vita and Xbox 360
Need for Speed: Most Wanted takes on the gameplay style of its first installment, Most Wanted title in the Need for Speed franchise. Most Wanted allows players to select one car and compete against other racers in three types of events: Sprint races, which involves traveling from one point of the city to another, Circuit races, each having three laps total and Speed runs, which involve traversing through a course in the highest average speed possible. There is also the Ambush races, which start with the player surrounded by cops and tasked to evade their pursuit as quickly as possible. Cops are integrated into certain racing sessions, in which the police deploy vehicles and tactics to stop the player's car and arrest the player, like the original Most Wanted. At each event there are two upgrades that can be unlocked for the current car, one of them is unlocked for players who manage to finish at least in second while the other is only obtained by winning. The game features a Blacklist (also known as The Most Wanted List) of 10 racers, similar to the single-player section of the original Most Wanted, which featured 15 Blacklist racers. As the Most Wanted racers are defeated, their cars are added to the player's roster. In this reiteration the focus shifts from Rockport, the city in the original, to a new city called Fairhaven.
Most Wanted has been likened to the Burnout series. Like Burnout Paradise, races have a start and end point but players can choose their own route to the finish line, a departure from the original Most Wanted, but similar to "crew challenges" from the sequel, Carbon. Destructibles, such as billboards and fences; and drive-thru shops, such as petrol stations and repair garages, from Paradise are also featured.
The game uses Autolog, the competition-between-friends system developed by Criterion for Need for Speed: Hot Pursuit, and since used in other titles in the Need for Speed series. Autolog in Most Wanted plays a larger role and gives more information to players. Activities in-game allow players to earn Speed Points which can boost players up on the Most Wanted list. Autolog recommendations have now been integrated into the game world, rather than sit externally on the menu system.
Most Wanted features a new social system called Cloudcompete, which strings together Most Wanted across all platforms in an inspired example of cross-compatibility. One profile is used for all versions of the game, allowing the player to rank up on one format and continue progress on another.
The driving model of the game has been described as "deep, physical and fun", not as arcade-styled as the Burnout series and Hot Pursuit, but far from a simulator. Most Wanted has a range of real-world vehicles, a mix of muscle cars, street racers and exotics, described as "the wildest selection of cars yet".[5] The cars can be altered with visual and performance upgrades, such as paint colors, reinflatable tyres, suspensions, engine, nitrous oxide, and body work that enables players to crash through roadblocks. A feature called EasyDrive enables players to customise their vehicles while in action. For the first time in Need for Speed history, all of the cars are available from the start, hidden in different locations throughout Fairhaven; the player has to discover them in order to unlock them.
Wii U
In addition, the Wii U version features three unique features to make it the "Enhanced Version". The Wii U version includes a new co-op feature that allow players to team up with friends. The new local co-op mode, called Co-Driver, lets one player drive using a Wii Remote or the Wii U Pro Controller and another use the GamePad to provide control and navigation assistance on an interactive real-time map.
Additionally, the Wii U version supports full gameplay on the GamePad, allowing users to play independently from the TV. The GamePad can also be used to change mods and switch into cars without having to pause the game. Also included in the Wii U version is the Ultimate Speed Pack.
Development
---
In November 2011, it was revealed that Criterion Games was developing another Need for Speed game, according to a job advertisement. According to the job listing, the studio was "looking for talented Cinematic Artists to work on the world's number one, multi award winning, arcade racing franchise." According to the listing, players should expect "entertaining, compelling in-game cinematic action sequences" from the racer, as well as "intense car action sequences, terrifying jumps, insane crashes and epic car chases." Earlier in the year, another job advert revealed that Criterion was developing a game with "believable, open world AI racing drivers." On 11 January 2012, British retailer Game revealed that EA plans to release Medal of Honor: Warfighter and a new entry in the Need for Speed series later that year, which was shown by EA during a confidential presentation. However, the developer and what direction the racing series takes in 2012 was not revealed. On 23 January 2012, Criterion's creative director, Craig Sullivan, said on Twitter that the Guildford-based studio has "lots to share over the coming months". Sullivan didn't provide any further details, except to say the upcoming announcement/s are "going to be BIG". On 8 April 2012, South African-based online retailer BTGames listed Dead Space 3 and Need for Speed: Most Wanted 2 for pre-order.
On 7 May 2012, EA confirmed that new entries in both the Dead Space and Need for Speed franchises will be on shelves by March 2013. The then unnamed and unannounced Need for Speed game was slated for a Q3 2012 release, which would have been any time between October and Christmas 2012. On 25 May 2012, a booth schedule sent out by TwitchTV revealed that EA was showing off Need for Speed: Most Wanted at E3. While EA had previously confirmed that a new Need for Speed was on the way, this was the first time its title had been confirmed. On 1 June 2012, EA officially confirmed the existence of the Criterion-developed Need for Speed: Most Wanted as part of the publisher's E3 line-up.
Need for Speed: Most Wanted was officially revealed at EA's Media Briefing during E3 2012, with a trailer which showed a police chase involving a street race. The trailer was followed by a live demo of the game on stage by creative director Craig Sullivan. When asked about that Criterion Games would only be focused on Need for Speed, meaning no more Burnout, Sullivan stated "It's more a case of wanting to get Need for Speed back on its feet after last year," referring to the poorly-received Need for Speed: The Run. Producer Matt Webster stated that Most Wanted is "everything we know about open-world driving, just piling it together. All the best stuff about Burnout and everything we did in Hot Pursuit, we're just smashing them together."
On 30 July 2012, it was reported that Most Wanted will include some form of Kinect functionality on Xbox 360. The "Better with Kinect" banner was seen emblazoned on the game's Xbox 360 cover during the game latest gameplay trailer. On 7 September 2012, it was confirmed by producer Matt Webster that the game will support Kinect with a range of support-oriented voice commands that allow players to keep watching the road in front of them. Many of the commands will be tied to the game's "easy drive" menus.
At gamescom 2012, Sony Computer Entertainment announced Cross Buy, which offers the Vita version of a game for free to customers who purchase it on PlayStation 3. When asked by IGN about Cross Buy for Most Wanted, an EA spokesperson told "We're taking it under consideration, but we have no specific plans to announce at this time." Producer Matt Webster announced that the Vita version of the game is "exactly the same game [as the PlayStation 3 version] apart from traffic density and number of players online," which it called a "significant achievement" on the portable.
System Requirements
---
Minimum
Recommended
Microsoft Windows
Operating system
Windows Vista (SP2) 32-bit (Windows XP is not supported)
Windows 7 64-bit (Windows 8 is supported)
CPU
2 GHz Dual Core (Core 2 Duo 2.4 ghz or Althon X2 2.6 GHz)
Quad-Core CPU(Core i5 2.4 ghz or Phenom II)
Memory
2 GB
4 GB
Hard drive space
20 GB of free hard disk space
Graphics hardware
DirectX 10.1 compatible with 512 MB RAM (ATI RADEON HD 3870 or higher performance / NVIDIA GEFORCE 8800 GT or higher performance)
DirectX 11 compatible with 1024 MB RAM (NVIDIA GEFORCE GTX 560 / ATI RADEON HD 6870/6950)
Sound hardware
DirectX compatible
Network
Internet connection required for activation and multiplayer
Input device(s)
keyboard, optional controller
Xbox 360 Controller for Windows
Trailer
---